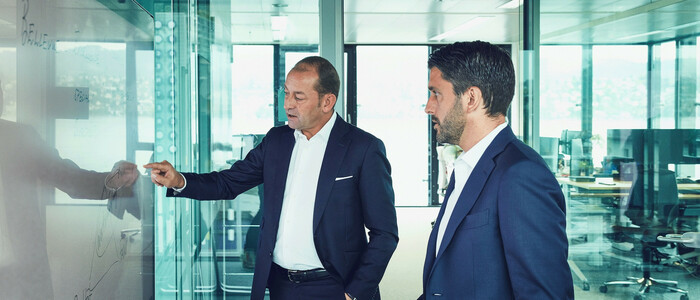 Investment process and risk management
Fundamental research is central to our investment decisions. In our methodology we determine the fair value of investment candidates and analyze factors that could impact their value in the future. That allows us to spot the next megatrend and invest in the right growth drivers before they appear on the radar screens of the broader investment community.
This is a demanding task
It requires highly specific knowledge, excellent analytics and an ability to connect different pieces of a puzzle in a lucrative way. We have set up specialized management teams that understand the business and find the most attractive companies in the investment universe and that are in constant contact with company executives and leading industry experts. They compare their findings with market consensus and then draw up their own conclusions and forecasts.
Our investment process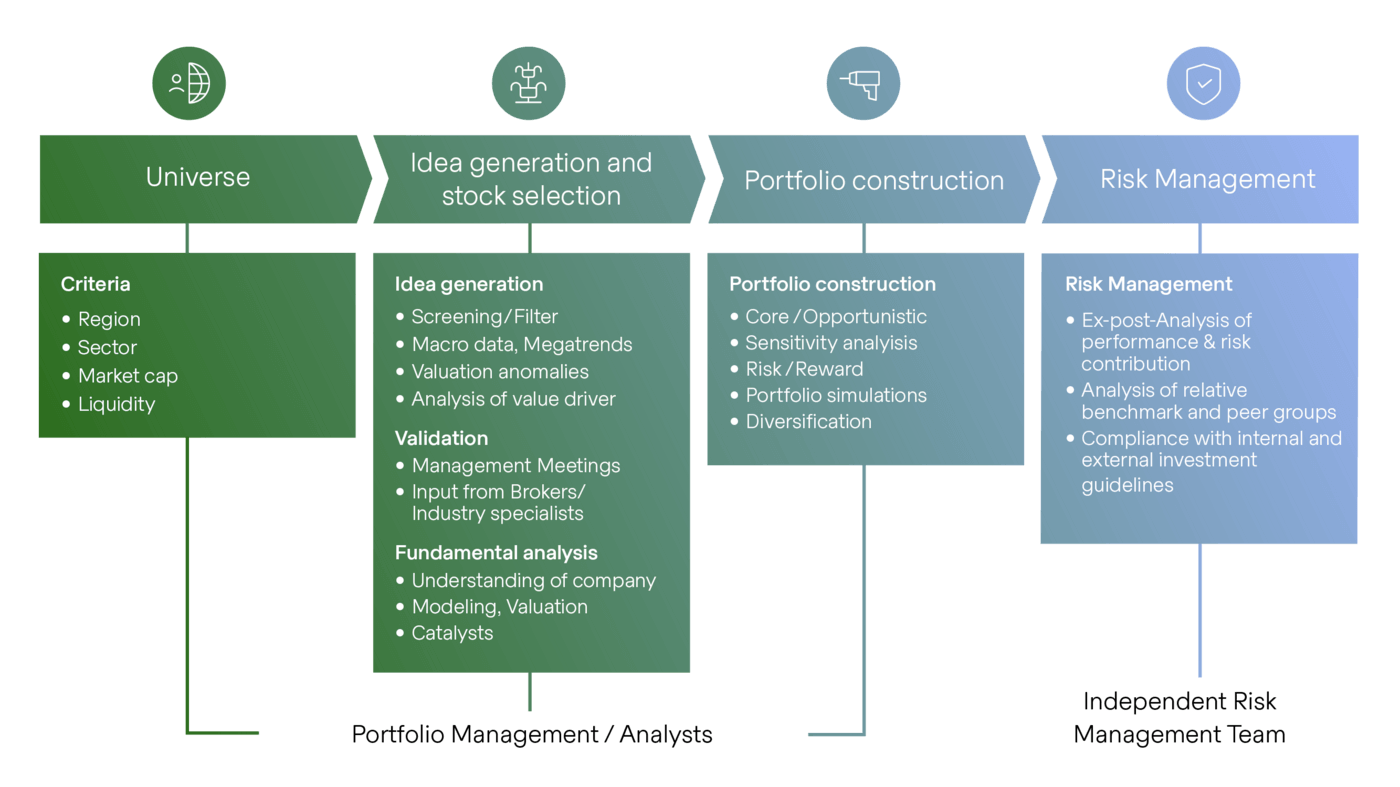 Determination of investment universe
The first step is defining the investment universe in accordance with the given investment goals, specifically with regard to region, sector, market capitalization and liquidity.
Performance ist das Ergebnis intelligent gemanagter Risiken. Bei Bellevue ist Risikomanagement ein integraler Bestandteil des gesamten Anlageprozesses. Unser Risikomanagement- und Controlling-Prozess dient der Erreichung der nachfolgenden vier Ziele:
Idea generation and stock selection
Before actually crunching the numbers, our analysts and portfolio managers assess a company's potential growth and profits based on its market position, product pipeline, innovation power, brand power and other factors. They rely on their vast knowledge of their areas of specialty to gather this information and then turn to an extensive network of leading experts and industry specialists for external validation of their conclusions.
This approach sets us apart from many of our competitors and is a key factor for the high-quality research we produce. Only after this step are quantitative company models based on classic fundamental data created and analyzed.
Portfolio construction
Once an investment decision is made, the optimal portfolio weightings are determined using sensitivity and portfolio simulation analyses. Stock-specific risks are aligned with the return potential. Correlation data and qualitative aspects are analyzed to achieve optimal diversification. Portfolios are diversified across different regions, investment styles, sub-themes or, within the healthcare sector, by investing in companies with products at different stages of the clinical development process.
Risk management
Performance is the result of intelligent risk management. Risk management is an integral part of Bellevue Asset Management's overall investment process. Risk management and controlling processes help to achieve the following four goals:
Performance analysis
Ensure a competitive investment performance relative to relevant benchmark indexes and to peers. Performance reports are produced at least once a month.
Risk analysis
All risk parameters are defined and analyzed for risk attribution and performance measurement purposes.
investment governance
Our investment governance process ensures that external and internal investment guidelines are adhered to at all times.
Operational risks
Quality control of asset management operations throughout the entire portfolio management value chain. Experience gathered during daily business operations is evaluated for continuous optimization of operational efficiency.